The festive season has arrived and this usually means a plethora of Christmas parties, work drinks and buying the dreaded Secret Santa for Alex in Marketing who you've never really spoken to…
But with our easy, ethical Secret Santa ideas guide, there's no need to fear who you end up with, as our ideas have something for everyone, so you'll end up giving a gift that people actually want (and that doesn't end up as junk in landfill too!) – win, win!
Our Ethical Secret Santa Gift Ideas for $10-$15
From $15 for 250g
If you work in an office, chances are your Secret Santa is partial to a coffee. Why not give the gift of delicious, freshly ground coffee? With the added bonus of knowing that with Five Senses community outreach programs, your purchase is helping the farmers to grow, well beyond the beans they pick!
Keep Cup
$14
Got a takeaway coffee cup culprit in your workplace? The gift of a Keep Cup should help sort that (subtly!) out. BPA free, dishwasher safe, unbreakable and made from recycled materials, this is a gift that should keep on giving every working day of their life (maybe!).
Save the Children Charity Chickens
$10
Has your Secret Santa literally got everything they need in life? Apart from being extremely lucky, why not share the cheer by supporting a great cause with a charity gift card? A simple gift with a huge impact that will make the feel-good factor stick around throughout the holiday season!
It's in the (Sandwich) bag!
$12
A great, practical gift for those who always bring their lunch to work (great savvy savers too!). Wrap your sandwich in style with this 100% cotton, denim look sandwich bag that is machine washable and vegan-friendly.
Handy Herbs
$9.95
Give the gift that literally keeps on giving – a handy herb set! Easy to plant, just pop it in a pot (no garden required!) and watch it grow. A great home or office gift that can add a bit of flavour and save a few $$ too!
Savvy Straws
$9.95
Don't be a sucker with these reusable, sustainable straws! Made ethically with a handy travel pouch and cleaner, there's no excuse to use a plastic straw again!
Empowering Education Notebook
$7.95
Want a charity gift that you can still wrap? This gorgeous notebook is the perfect choice! Compact and great for on the go, you can sleep well at night knowing that your purchase is helping to fund girl's education in Africa. What's not to like?!
Bamboo Biro
$9.90
Write in style with this cool refillable bamboo pen! A gift that every worker can use, no matter what industry you're in! An easy to give gift that has a positive environmental impact.
Christmas Chocolate
$12
CHOCOLATE! Everyone likes chocolate! So ok, it's not necessarily "Christmas" chocolate (except that you're giving it as a Christmas gift), but when choccies are this delicious, beautifully packaged and Fairtrade, it doesn't really matter does it?!
Terrific Tea
From $12
A perfect addition to the Fairtrade choccies, why not gift a gorgeous box of Love Tea? With so many flavours, there's something for everyone – and all their packaging is sustainably sourced, printed with vegetable inks and even the "plastic" wrapping is compostable – a perfect guilt-free gift!
We hope you enjoy our ethical and sustainable Secret Santa gift ideas! Just so you know, none of these are affiliate links, just our personal recommendations based on things we like and gifts we'd love to receive (hint, hint!).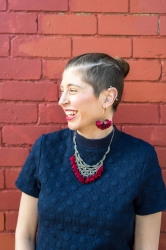 Latest posts by Heather Currie
(see all)
General Advice Disclaimer
This blog contains general advice only. You need to consider with your financial planner, your investment objectives, financial situation and your particular needs prior to making any strategy or product decision. InterPrac Financial Planning Pty Ltd and its authorised representatives do not accept any liability for any errors or omissions of information supplied in this document except for liability under statute which cannot be excluded.